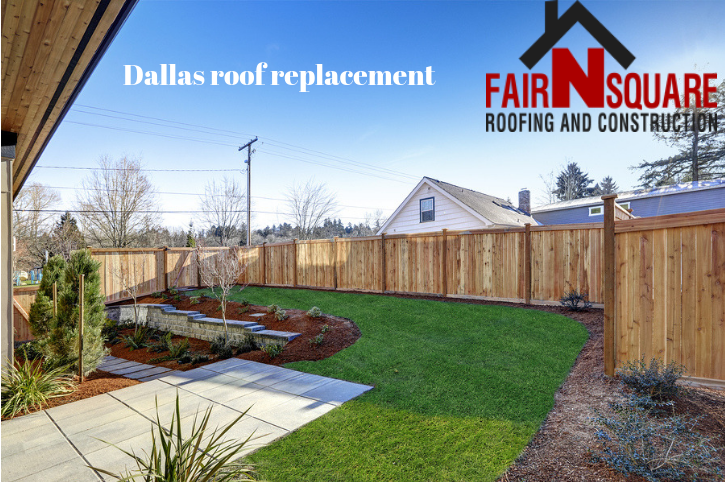 If you are thinking about a new roof for your current or new home, then you may have a few decisions to make. For example, what works with your home's architecture? Which material has the longest life? What roofing material fits best within your budget? One important consideration you may not have thought about is: what type of roof replacement do you need for your Dallas home?
Different Climate Demands Different Roofing Style & Design
Some roofing materials, like slate and asphalt are used in Dallas homes because they are great at withstanding heavy snows, while others, like metal, absorb less heat in hot climates. Others provide excellent fire resistance – especially important if you are in a part of the country that frequently faces wildfires.
Another issue is wind resistance. Some types of roofing replacement materials such as clay and concrete have low wind resistance. Although Dallas is at a low risk for tornadoes, the coastal areas can feel the wind and torrential rains from occasional hurricanes and tropical storms. And, as anyone who's been in the Dallas during the summer can tell you, how's the humidity there. Some roofs such as wood shingles and shakes must be properly cleaned and maintained to ensure moisture and infestations don't cause roof decay. With all of these weather related parameters in mind, many Dallas homeowners choose these types of roof replacement options:
Asphalt Shingles: Asphalt shingles make up 80% of the residential roofing market in the United States and are commonly used in the Dallas. Asphalt Shingles hold up in most weather conditions but can have a shorter life in very hot & dry climates.
Slate Roofs: Slate roofs are incredibly durable and can withstand moisture, heavy snow and heat. However, they can be expensive to install and repair but will have the longest life span of any roof material.
Metal Roofs: Metal roofs work in all climates and are very durable, but can be noisy which can be a downside, particularly during a rainy season.
The best way to determine the right roofing material for your home is to talk with a roofing expert. At Fair N Square Roofing and Construction, we understand the importance of protecting your home. We can recommend the best roofing replacement and material into consideration to educate you about what works best for your home's aesthetics as well as your desired maintenance, budget, and roof longevity.
When is the Right Time to Call Fair N Square Roofing for Professional Roof Replacement in Dallas?
Thinking of getting a new roof? With the winter and fall coming, you might worry that it's too late to start outside home repair; however, depending on your needs, now may be the perfect time to call a professional company offering the best ever Dallas roof replacement service. How soon you schedule a roof replacement in Dallas depends on the issue you are having with your current one. Planning ahead for a new roof before it becomes an urgent situation is recommended in order to avoid the stress of an unexpected roof replacement in Dallas.
So, if your roof is at least 20 years old, or you notice any crake, curl and bald spots on your shingles, now is the right time to plan for roof replacement. However, if you have been repairing your roof repeatedly or experiencing leaks in multiple areas, then you probably already have an urgent need for a new roof and may not be able to wait for a particular time of year. Rest assured, a roof replacement in Dallas can be easily done, whether it's in the heat of the summer or the middle of winter.
On the other hand, fall is one of the more popular times to install a new roof or replace the old one. During the fall season, Dallas homeowners look forward to a new roof to provide improved insulation during the approaching winter, and protection from the weather. Some roofs must be installed before it gets so cold that the material won't adhere or dry, but keep in mind that cold is defined as below 40 degrees. And it depends on the type of roof: flat roofs, rubber and special materials adhere better in the sunny months, but steep slope or angled roofs, like most residential homes, that have asphalt, metal, tile or slate materials are fine to install in colder months.
Here in Dallas, April to October is the busiest months for many roofers. But with our mild winters, homeowners in the Dallas area may find that the winter or early spring is the perfect time to get a roof replacement service in Dallas since demand may be lower, and wait times shorter.
Have questions about Dallas roof replacement ? Give Fair N Square Roofing & Construction a call. Being the premier roofing replacement company in Dallas, we specialize in repairing and installing quality roofing, siding, gutters, windows, doors and home attic insulation with the promise that we shall do good work.